Blogging has become a popular activity for historians and other scholars in recent years. Numerous historians publish personal or group blogs that comment on their work and current trends in the field. Many are both eloquent and entertaining, while some combine analysis, erudition, and creative insight to rival the best "traditional" scholarly work. The History News Network maintains a group blog, called Cliopatria, which aggregates some of the best of recent digital content. But I'd like to draw special attention to the official blog of the American Historical Association (AHA).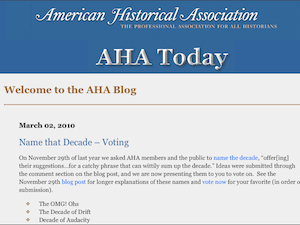 As the oldest and largest association of professional historians in the country, the AHA needs no detailed introduction here. For well over a century, the AHA has been a constantly looming presence within the profession. But some might be surprised to learn that its official blog is one of its most lively and informative publications. Entries survey the latest digital trends and articles, summarize AHA professional activities, and advertise fellowship and grant opportunities. Recent posts also take detailed looks at digital resources for subjects like medical history and oral history and offer introductions to major physical archives and repositories. An interesting post from earlier this year, for example, introduces readers to the Special Collections division of the National Agricultural Library.
But don't take my word for it. Click over and explore this gateway to a vast and verdant world of digital history.