It is my pleasure to announce the launch of the Yale Slavery and Abolition Portal (http://slavery.yale.edu). Sponsored by the Gilder Lehrman Center for the Study of Slavery, Resistance, and Abolition and the Instructional Technology Group, this site is designed to help researchers and Yale students find primary source material related to slavery and its legacies within the university's many libraries and galleries. Users can browse a small catalog of noteworthy collections, learn how to search for additional material, or explore a growing list of external resources. The portal is still in its early stages, and we welcome input and suggestions from researchers, students, and staff. Future improvements will include an interactive teaching component, dynamic tags, user-submitted material, and more.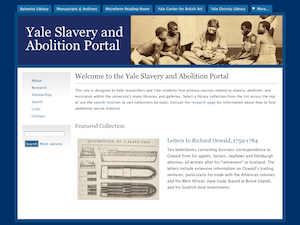 Our objective was to create a simple yet robust interface that would be flexible and expandable for use in both classroom and research environments. In keeping with the project's collaborative nature, faculty, students, and staff will be able to add, edit, or annotate collections without the need for technical expertise. Although this model is far from perfect, it shows great potential. During the design phase, collaborators were given the option of uploading and curating their own content, while others provided suggestions and advice. Archivists, curators, and librarians from almost a dozen different institutions and departments were crucial partners at all stages of the project.
The portal took about one year to complete, from conception to launch, and I think it offers something more than a run-of-the-mill research guide. In addition to archive and rare book blogs (for example, at the Beinecke and Law Library), I think the Slavery Portal is a unique and dynamic tool that will have a deep impact on both research and teaching.
Full disclosure: I am a project manager and the primary web designer for this portal.